Connecting Local Industry in the South to Materials Research and Investors
Event details
Tuesday, 2 July 2019
9:30 am – 21:00 pm
Overview
IMPORTANT: This is a two-part event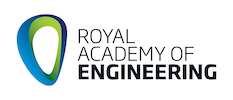 Daytime Event (9:30-16:00): Connecting Local Industry to Metamaterials and Emerging Materials Research in the South of England
Evening Event (17:30-21:00): Connecting Local Industry in the South of England with Investors; Networking and Exhibition
The University of Sussex, in partnership with the Royal Academy of Engineering and the Knowledge Transfer Network, is organising this two-part event.
The Daytime Event:
The Metamaterials and Emerging Materials Event is intended to connect a number of universities in the South of England with local companies and industry to increase cross-collaboration between the universities and local businesses. The universities will be showcasing technologies to local industry delegates with the aim of boosting collaboration with local enterprise.
Purpose:
Network and inform local industry of the work and capabilities of local universities in this area of Metamaterials and Emerging Materials in the South of England.
Boost local innovation, commercial growth and collaboration between enterprise and academia by exploiting deep-tech research and developments in the south.
Showcase emerging metamaterials and materials to explore their potential commercial applications for industry and their positive impact on society and the environment.
Who Should Attend?
Materials experts, engineers, product developers and researchers
Industry R&D and innovation managers and directors
New Product Development managers
Public sector officers involved in: Health; Transport; Energy; Security; R&D and innovation; Environment; Creative Industries
Why Attend?
Learn about the latest in Metamaterials and Emerging Materials from South of England universities
Form new collaborative partnerships
Find new technologies for your industry applications
Develop new commercial products
Increase your innovation impact
Identify new R&D project opportunities and funding
Daytime Event Programme:
09:30 Registration
10:00 Welcome and Introduction
           University of Sussex
10:10 Metamaterials & Emerging Materials at the University of Sussex
           University of Sussex
10:30 Industry Talk – Spin-out Success of Deep-tech Research
           Daniel Elford, Chief Technology Officer & Co-Founder, Sonobex Ltd
10:50 University Exhibitor Pitches
11:15 Break, Networking & Exhibition
11:45 Innovate UK: Focus on Metamaterials, ISCF and Innovation Funding
           Innovate UK
12:00 Fabrication: Human-Computer Interaction and Interactive Technologies
           Jürgen Steimle, Human-Computer Interaction and Interactive Technologies Lab,                   Saarland University
12:20 Royal Academy of Engineering Panel Discussion
           Chair: Anna Ploszajski, Materials Scientist, Engineer and Communicator, Research                  Fellow at the Institute of Makin
           Panel: Philip Nelson CBE FREng Professor of Acoustics within Engineering and                      Physical Sciences, University of Southampton and Alexander Reip, CEO, Oxford                    nanoSystems
13:20 Lunch, Networking & Exhibition
14:35 Industry Talk – Metamaterials Commercialisation
           Speaker tbc
14:55 How to Fund your Innovation Towards Commercialisation
           Ian Tracey, Head of Access to Funding & Finance, Knowledge Transfer Network
15:15 Royal Academy of Engineering Entrepreneur Programme and Funding
           Royal Academy of Engineering
15:30 Introduction to Defence and Security Accelerator (DASA) and DASA Funding
           Jim Pennycook, Innovation Partner, Defence and Security Accelerator
15:45 Closing Remarks and Follow-up
           Sriram Subramanian, Professor of Informatics and Head of Interact Lab, University               of Sussex
16:00 Close
The Evening Event:
The Investor-Industry, Deep-Tech Industry Showcase is intended to highlight the innovations and technologies of local industry in the South of England to investors and to demonstrate investment opportunities to enable further industry-industry and industry-academia collaboration.
Who Should Attend?
Investors, Business Angels, VCs
Industry Directors, R&D and Innovation Managers
Innovators, growth accelerators of emerging technology platforms
Product Development managers
Why Attend?
See the latest from small, medium and large companies operating in the South of England
Networking opportunity with many like-minded entrepreneurs, product developers, investors, founders and innovators
Explore fundraising and investment opportunity
Showcase your cutting-edge products
Increase your innovation impact
Programme
We are inviting local industries and technology businesses to demonstrate their products and innovations. There are spaces for up to 40 exhibitors for this evening event: If you are interested in exhibiting your products and innovations, you will be able to apply during the registration process.
Canapés and drinks will be served in the evening
REGISTRATION PROCESS: To receive a free ticket to attend for the day or evening, or both parts of this two-part event, please register your interest in the first instance. We will confirm your attendance by email – please wait for this confirmation email before making travel arrangements. Due to limited space, we are prioritising industry delegates in the South of England. We welcome all participants to both the day and evening parts of this two-part event.