Expression of Interest: Immerse UK Speed Networking with the Royal Academy of Engineering
Event details
Tuesday, 30 January 2018
9:30 am – 14:00 pm
Overview
Speed networking event bringing together SMEs with large brands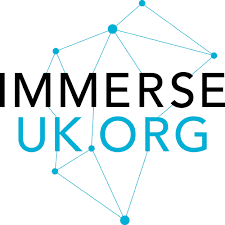 Are you an SME working in immersive tech? Would you be interested in discussing your ideas, technologies and solutions with cutting edge companies in this space?
If the answer is "yes" then our forthcoming speed networking event organised by Knowledge Transfer Network (KTN) in partnership with the Royal Academy of Engineering could be for you.
Rise to the challenges set by key industry players at our speed networking morning.
Are you an SME working in the world of immersive technology?  Join us to discuss your ideas, technologies and solutions with cutting edge companies at our frenetic and fun speed networking session in London. You'll get the chance to pitch your innovative ideas and network.
HOW IT WORKS
You will spend the morning working your way around the room, having six minute meetings with each of the challengers. You'll get the opportunity to pitch your ideas in response to the challenges set.
Just like speedmatching, both you and the challenge companies are given "dance cards" to indicate an interest in following up conversations. After the speed networking session there will be lunch provided, with the chance to network informally with the challengers and other pitching companies.
THE CHALLENGES
We have a couple of challenges confirmed so far, with more to coming soon. The challenges are from:
European Space Agency
The European economy is powered by Space. From agriculture to infrastructure, tourism, transport and health, our core industries leverage Space technology in business every day. The European Space Agency (ESA) wants to hear from companies with immersive commercial applications for satellite data and other space assets. These might for example make use of:
Geolocation, Augmented Reality or Location-Based Services, or uses of the precise clock signals broadcast by sat navigation satellites
Satellite image data. Products might be based on algorithmic or AI image analysis of visible, infrared and radar images which are freely available
Satellite telecom and data connections. e.g. in IoT or data connections to/from remote locations or moving vehicles
Spin-out and spin-in from the space programme and the ISS (International Space Station)
Data visualisation of satellite data
Siemens
Siemens are looking for new and innovative solutions related to optimising processes across the entire value chain. By utilising immersive technologies across the extended reality spectrum to improve; product, process and plant design as well as manufacturing and service. These solutions should enable operators to naturally use this technology within the areas of simulation, operations, maintenance and repair, remote collaboration and training. We currently are focusing on two specific areas; The first is working with our Digital Factory in electronics manufacturing and lean cell optimisation and the second in one of our state-of-the-art train maintenance facilities assisting engineering teams with inspection and servicing of rail rolling stock.
Deloitte
At Deloitte our mantra is "Fall in love with the problem, not the solution". We work with a huge variety of clients across all industries and so we end up falling in love with some really interesting problems. Even within our own organisation, with over 260,000 employees worldwide, there are big challenges that we need to address.
Digital realities are fast becoming key components of solutions that we're crafting to solve these problems and we are always looking to partner with skilled teams who can deliver for our clients and for us.
Some examples of projects that we have helped clients with recently or where we actively looking for assistance:
An enterprise wide deployment of mobile VR for training, integrated with an existing solution for tracking learning.
Immersive health and safety/posture training
Augmented reality for guided maintenance and see-what-I-see remote support.
A VR based project room for international team collaboration.
Using VR and AR for collaboration on product/spatial design/inspection between multiple international teams, integrated into the existing design workflow.
Whole world simulation and visualisation for transportation/infrastructure projects
A 360 video based collaborative training environment for technical education (1 teacher, multiple students)
THE APPLICATION PROCESS
If you are interested in attending, you will have to go through a selection process, so we can ensure there's the right mix of companies participating.
Step 1: Make sure you've read the challenges
You will need to read more about the challenges to make sure this event is for you. You will need to address at least one of these challenges if you are selected to attend.
Step 2: Register your expression of interest and fill out the short online application on the registration page.  Click the register button.
The online application form gives you the chance to tell us about your company and why you want to attend.
Please note that this event is tailored specifically for companies working within Immersive Technology.
Step 3: Selection takes place based on the expression of interest applications
Important date: Deadline for Expression of Interest is Friday, 19 January 2017 by 17:00.
We will be in touch at least a week before the event to let you know if you've been successful and selected to participate. Once you've confirmed your attendance, you will need to prepare for each of the individual meetings with the challenge companies.
ANY QUESTIONS?
If you need any more details, please contact Carrie Wootten on carrie.wootten@ktn-uk.org